The revolver weighs a little over 12oz unloaded and 15.5 loaded. It has a 2in Stainless Steel barrel and 5 shot cylinder. It has full size finger groove rubber grips. They do reduce the concealment a little, but fit my hand perfectly and do help reduce recoil with the +P loads.
The fit and finish are not at the S&W level but are just fine for a pocket carry gun. Other than the front sight (and it's not bad), there are no sharp edges and the only tool marks visible are a few inside the cylinder flutes and inside the crane.
The sight are minimal snub nose style but the front blade is wide and it shoots to point of aim with 158 loads and a little low with 125 loads.
I dry fired the gun quite a lot before shooting and the trigger pull is very smooth and not too heavy the cylinder hand locks the cylinder just before firing and so there is a slight stacking at that point, but it is unnoticeable in rapid double action fire. I do not have a trigger pull gauge but estimate the double action about 10 pounds and the single about 4.
Charter advertises a very short lock time and compared to the Rossie, Taurus and Smith & Wesson I have had it is true.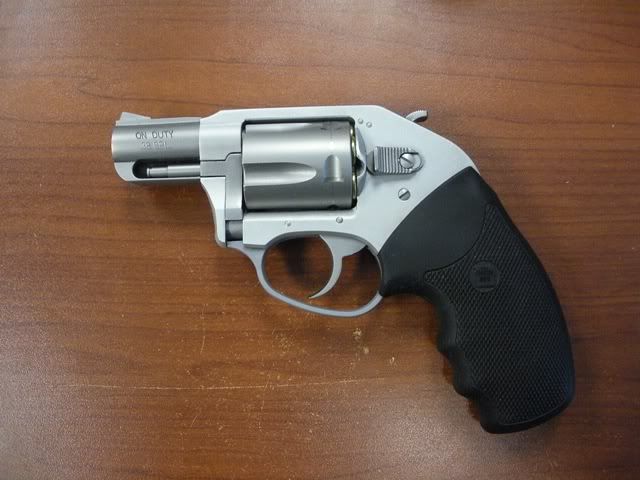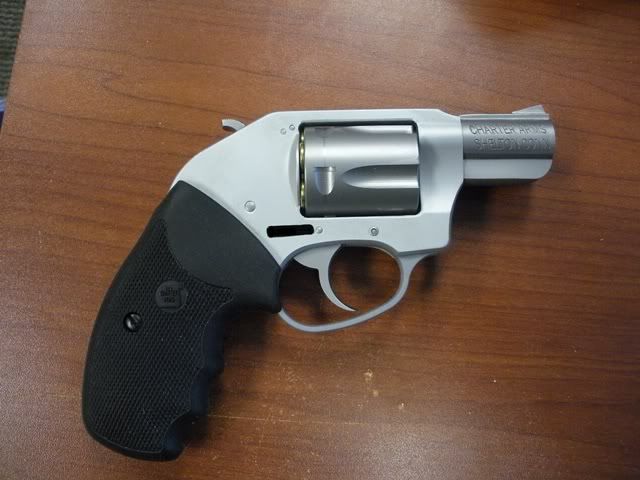 I took it out and tried it with a variety of loads and here are the results.
I started at 15 yards and wanted to test the mechanical accuracy, so I shot single action from a rest .
First group 125gr jsp Winclean Winchester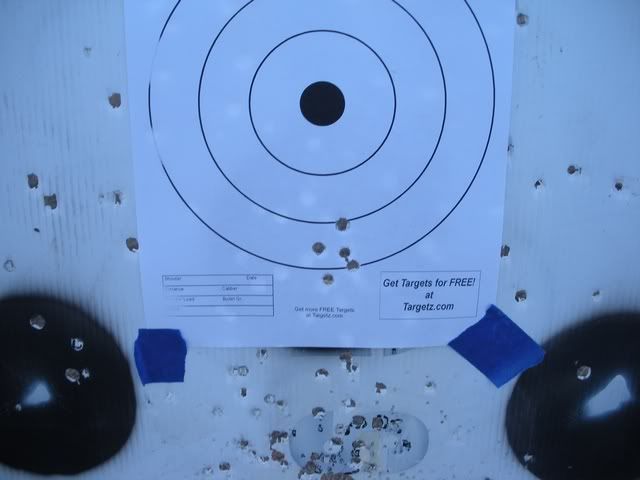 Second group 158gr LSWC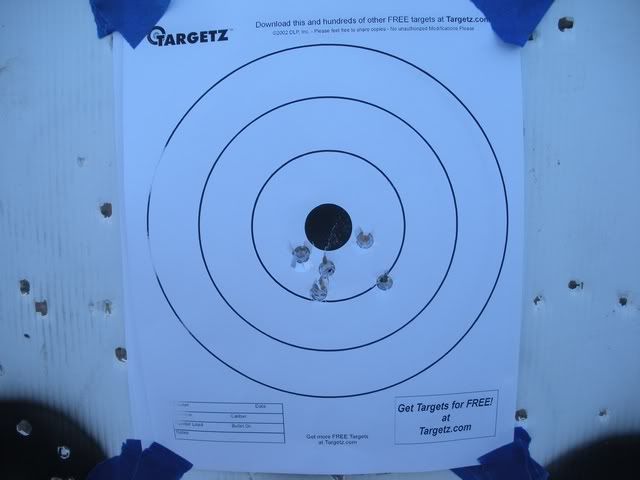 Third group 125gr JHP +P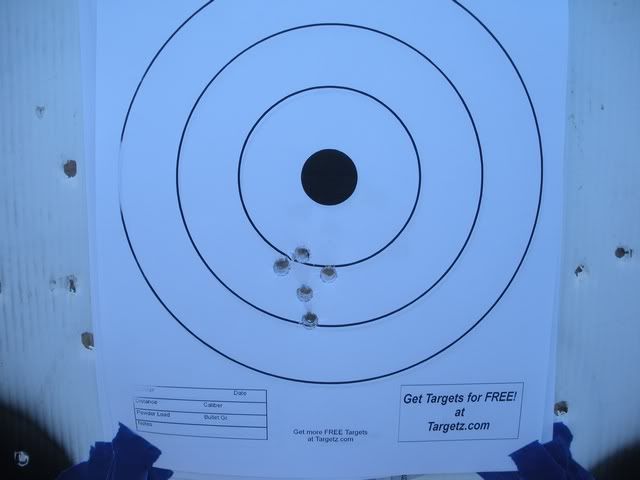 I then moved up to 10 yards and fired two handed double action rapid fire.
First group 125gr jsp Winclean Winchester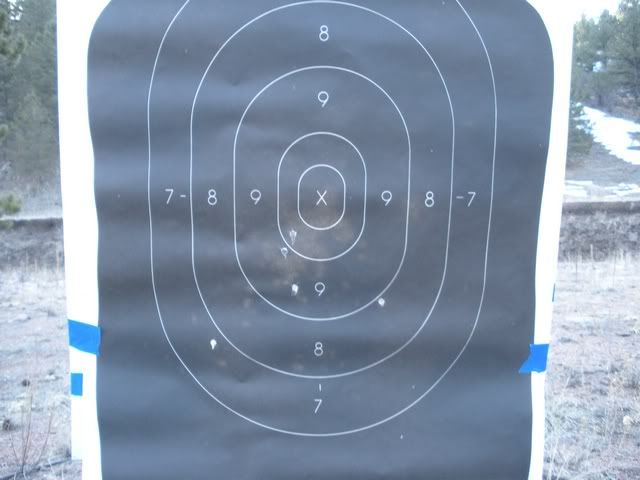 Second group 158gr LSWC
Third group 125gr JHP +P the recoil from these opened the group up a little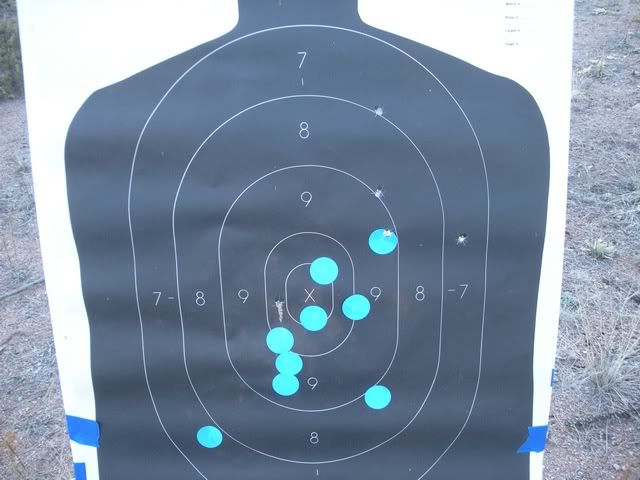 Head shot group 158gr LSWC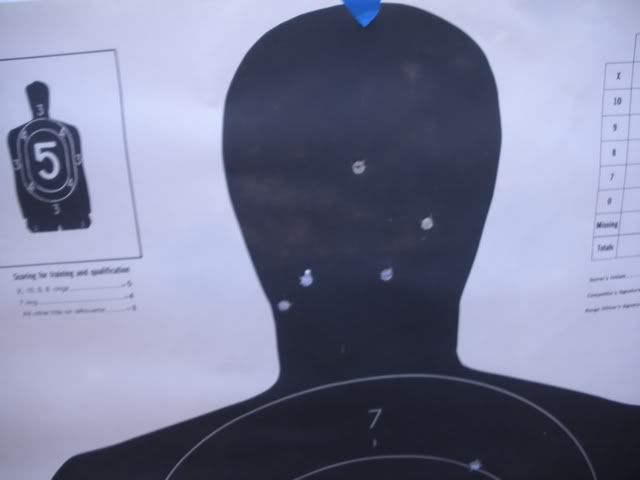 I wanted to try out the gun as it was most likely to be used so the next groups were double taps drawing from the pocket holster and point shooting from the hip as fast as I could draw and fire.
First 125gr JHP +P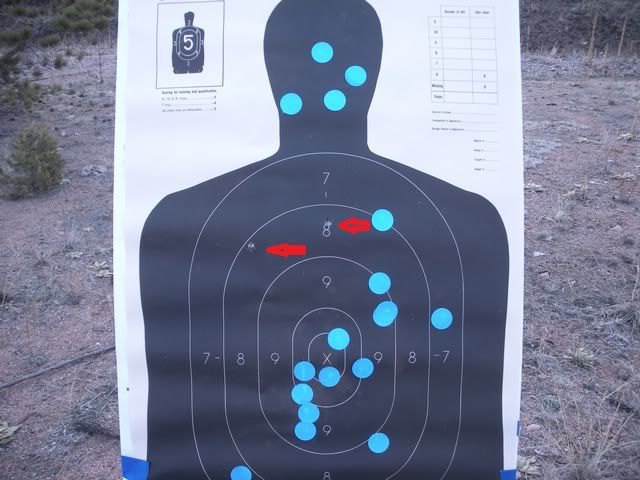 Second 125gr JHP +P
Third 5 rounds 125gr JHP +P.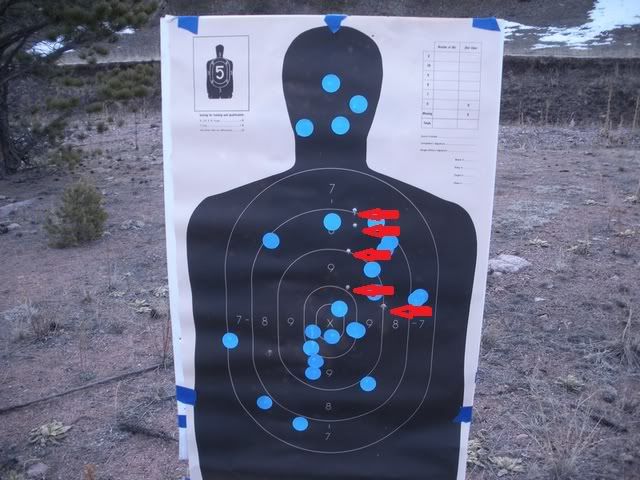 As is to be expected from a revolver function was 100%
I had heard some bad reviews about the Charter Arms guns, but my sample worked great, all pins and screws stayed tight, lockup was perfect, no spitting or shaving from the cylinder gap, clean ejection of empty cases.
For a revolver this light, recoil was not bad at all. The +p loads definitely had a sharper kick, but the grips soaked it up nicely and after 75 rounds it was never uncomfortable or painful.
The shrouded hammer provides a really smooth draw and I have not had it hang up once in practice draws.
I am very pleased with this gun I don't know how durable it will be long term, but I expect I will carry it a lot and shoot it very little.